Skyworks worked with Julia to make the Canal Walks TV series. You can find more about Skyworks stunning aerial filming on the World from Above page here.
Llangollen Canal Walk
A welcome awaits in the valleys when you step out on this gentle 6-mile walk.
A head for heights is a must because the high spot – literally – is the stunning Pontcytslite Aqueduct, 200 years old, with its 18 piers rising to a height of 126-feet and its 19 arches each with a 45-foot span.
The UK's highest navigable aqueduct, it's a World Heritage site and among Thomas Telford's greatest legacies.
The walk starts at Horseshoe Falls, a Telford designed weir, which feeds water into the canal from the River Dee, and ends at the picture postcard town of Llangollen.
Must sees include the pump-house between the river and canal – still operational today – and Pentre Fellin, once an important slate mining operation whose buildings now house a motor museum. The beautiful landscape makes it hard to imagine the days when coal and limestone travelled up and down the canal by barge.
Julia's verdict: Hit the heights and see the sites!
Read more ...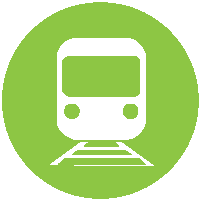 Nearest Train (or tube) Station(s):
Ruabon, Wrexham, Chester

 Click photos below for more information: