Walk Details
The New Zealand Commonwealth Walkway is a 6.5-mile route exploring the urban and coastal scenery of the capital city Wellington on the North Island.
Nestled between the rural heartland of the North Island and the bountiful waters of Cook Strait, this harbour city is a beautiful place to walk. Famous for its food, wine, craft beer and coffee, you won't struggle for refreshments afterwards either.
Read more ...
According to local Maori tradition, Whatonga – a chief of the Kurahaupo waka – named Wellington Harbour Whanganui-a-tara, after his son who is said to have been enamoured with the deep and beautiful harbour 'at the very nostrils of the island'.
The London-based New Zealand Company ship, Tory, arrived in Tara's harbour in 1839. Maori chiefs agreed to sell land to British settlers and many came to Britannia, soon renamed Wellington. The frontier town of Wellington quickly took shape.
In 1855, an earthquake caused widespread damage and raised the coastline 1.5 metres; shore platforms now encircled the harbour, creating natural routes for road and rail.
​Wellington became New Zealand's capital in 1865, due to it's favourable geography, sheltered harbour and central location. Parliament officially sat in the city for the first time on 26 July 1865. Wellington gained formal 'city' status in 1881 as the non-Maori population topped 20,000. There was an economic depression but 1,000 new arrivals a year continued to be attracted.
​Four months after the bombing of Darwin in February 1942, 20,000 US Marines arrived in Wellington on USS Wakefield. A band was waiting for them on King's Wharf. Though tensions occasionally ran high with locals many life-long relationships were forged.
Thousands of people lined Wellington streets in January 1954 to catch a glimpse of the newly-crowned monarch, Queen Elizabeth II. Her Majesty's royal limousine travelled down streets bedecked with a million begonias grown in City Council nurseries especially for the occasion. She spent Christmas in New Zealand and referred to the Commonwealth as an equal partnership of nations and races.
In the mid-1970s the City Council required all older buildings to meet certain earthquake resistance standards. The cost of strengthening was such that dozens of grand old Victorian buildings in central Wellington's 'Golden Mile' were torn down and replaced with high-rise structures made of steel and glass.
Mayor Celia Wade Brown, who had transformed the harbour and campaigned to improve Wellington's walkability, was instrumental in working with The Outdoor Trust to secure The Wellington Commonwealth Walkway to help share the Capital's story.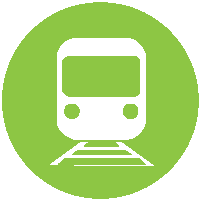 Nearest Train (or tube) Station(s):
Wellington