This beautiful circular walk follows the edge of Hambleton Peninsula, surrounded on all sides by Rutland Water, and is a popular location with everyone from dog walkers and birdwatchers to mountain bikers.
Rutland Water is home to the first ospreys to breed in England for 150 years, so if you visit between spring and autumn look out for them hunting fish across the reservoir.
Hambleton Peninsula itself was initially just a high piece of ground set in the rolling Rutland countryside, until the reservoir was flooded in 1975.
The pretty village of Upper Hambleton was located on a hill and survived the damming of the Gwash Valley to stand on what is now the peninsula, making a lovely start and finish point to this route.
This walk follows a clockwise direction around the peninsula. Start at the centre of the village (Grid ref: SK900075). Once parked on the street, join the footpath leading you to the shoreline. Look out for sailors, windsurfers, canoeists and paddle boarders as you walk, because Rutland Water is a popular watersports location.
This path is also part of the Rutland Water Cycle Route. On the north side you'll walk through Armley Woods, and further along you'll pass the inlet of Barnhill Creek. Once on the south side you'll pass Hinman's Spinney before walking through Hambleton Wood.
You'll have the chance to cut back to your start point at Limes Farm and Middle Hambleton, but instead follow the path along the shoreline for a little longer then take the next right back to Upper Hambleton.
TOG's verdict: A gem of a walk around a secretive peninsula that feels like your own private island. You'll want to come back again and again.
This walk is part of the Dogs Die in Hot Cars Campaign. Please don't take the risk by leaving your dog alone in a car on a summer's day. 'Not long' is too long.
Read more ...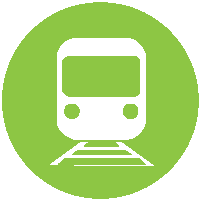 Nearest Train (or tube) Station(s):
Oakham, Stamford