Wainwrights guides have inspired many people to come and explore the Lake District. Julia Bradbury heads off up Castle Crags, a small but spectacular fell in the jewels of the Borrowdale Valley in this walk as seen on BBC series Wainwright Walks.
Read more ...
Start at Grange, follow the edge of the river through the woodland, past the National Trust campsite at Hollows Farm. Follow the path south up the old quarry road. Then go left, up a short sharp ascent up the cragside. Up the zig zag path to the professional made summit cairn. Keep an eye out for the Herdwick sheep and caves!
Julia's verdict: A mini mountain, perfect for a family walk about a mile and a half – 951 ft.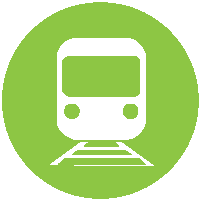 Nearest Train Station:
Penrith