Cornwall Walk
It is easy to stay on the right track for this walk – simply follow the railway lines.
Sweeping north to south the Cornish coastline route runs parallel to both the Portreath Tramroad and the Redruth and Chasewater line.
It links Portreath Harbour, historically a key transport link for the area's mining industry, with the more tranquil Devoran, passing through heath land, wooded areas and old mining sites that – incredibly – once employed 50,000 people!
Read more ...
From Portreath the walk takes you along the old Tramroad towards Poldice Valley by way of Bridge, Cambrose and Wheal Rose.
Here you link up with the Redruth and Chasewater Line and continuing further down the valley you encounter the stunning viaduct, built originally on a small budget by Kingdom Brunel but replaced 70 years later.
Here the landscapes are replaced by seascapes and views out over the south Cornwall coast as you reach Quayside Point where the railway and the walk both end.
Julia's verdict: No tickets needed on this rail journey …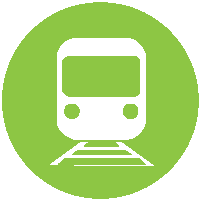 Nearest Train (or tube) Station(s):
Redruth, Camborne, Truro