Walk Details
The Dart Valley Trail links two of the West Country's most celebrated towns, Totnes and Dartmouth, following the beautiful River Dart through picturesque villages, finishing where river turns to sea.
Our #CornwallDevonWalk begins in the bohemian town of Totnes, reportedly the site where Brutus of Troy – the legendary founder of Britain – came to shore.
The trail then leads you along the reedy banks of the Dart, where the water runs slow, on quiet mornings all you can hear is the wind rustling the reeds and the chirping of river birds.
During your meandering you will come across the spectacular Sharpham Estate, where you can find, nestled amongst a shady copse, delicious locally-grown wine and cheese. The Cellar Door Café offers a selection of sumptuous meals, composed largely of ingredients sourced from the Estate.
From there the trail passes through the chocolate-box villages of Ashprington, Cornworthy and Dittisham, which are as peaceful as they are beautiful.
At Dittisham you can take the ferry across the Dart Estuary to the Greenway Estate, once the home of Agatha Christie, now owned and maintained by the National Trust. Greenway featured in a number of Christie's stories, Poirot fans might even recognise the imposing white face of the Georgian Mansion from the episode 'Dead Man's Folly'.
The trail then passes through the serene ancient oak woodland which gave the River Dart its name – 'Dart' comes from a Celtic word meaning 'river where oak trees grow'. This section of the trail is alive with birdlife, attracted by the surplus of berries and small mammals. You may even spot the native Roe Deer or one of the many species of butterfly which call the woods home.
After this you will need to take another ferry across to your final destination, the busy Naval Port of Dartmouth, home to the respected Naval College and a plethora of harbourside cafes where you can indulge in a well-earned portion of fish and chips.
This isn't a circular route, so get back to your car you will need to take the 92 bus to Totnes, which will drop you at the train station, Steamers Quay Car Park is about a 20 minute walk from there. There is also an option to get a steam boat back down the river dart, this needs to be booked in advance and only runs during the summer.
Don't for get to tag #CornwallDevonWalk when you post photos of your adventures so we can see how you got on!.
Read more ...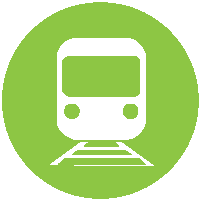 Nearest Train (or tube) Station(s):
Totnes
 Click photos below for more information: