To get this route free of charge please subscribe to The Outdoor Guide Newsletter, then register with our partner ViewRanger:
Nearest Train (or tube) Station(s)
Mine head on the West Somerset Railway
Nearest Mainline Train Station:
Taunton
Walk details
This beautiful short walk delivers great views across the 20 square miles of the National Trust's Holnicote Estate in Exmoor National Park.
Exmoor is a unique landscape of moorland, woodland, valleys and farmland, shaped by people and nature over thousands of years.
This beautiful route starts at Webber's Post car park and heads through a variety of beautiful landscapes, up along moorland to expose some fab views and back down through the valley woodland.
You may spot the famous Exmoor wild ponies on the Holnicote Estate, and there are plenty of other highlights along the way making this a fantastic route for walkers of all ages and abilities.
There are public toilets at Horner.
TOG VERDICT: A beautiful short route for all the family that makes a perfect introduction to walking in Exmoor National Park.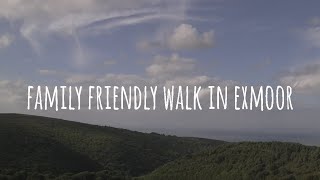 Click photos below for more information: