Walk Details
Start by passing the tennis courts,  turn right up a short gravelled path. At the junction, turn left. There's a rough path along the hillside.
1. In approximately 200m, turn right at the junction as the road inclines upwards. Continue along the former estate path, until you see the ruins of 19th century sheltered seats).
Read more ...
Continue downwards along the ridge, and at the junction, turn left. (the path descending to the right is a short cut, looping back directly to Merlewood – not available until the building works have been completed).
 Join the main route at the gate, which is approximately 80m ahead and take a sharp left before heading down through the very attractive Eggerslack Wood.
Go straight ahead at the marked junction and you'll see a little stream to your right.
3. Ten metres before the path crosses the stream, turn left and follow the path upwards to where you started at point 1 on this trail. Return to the tennis court.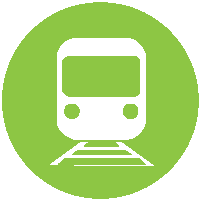 Nearest Train (or tube) Station(s):
Grange-over-Sands, Preston