Walk Details
This is a steady route which encompasses some of the Lake District's most revered tourist sights, including Cathedral Caves and Slater Bridge.
Parking is available at Skelwith Bridge or, if not, then at Elterwater, both of which are on the route itself.
If starting from Skelwith Bridge, head over the bridge towards Coniston and follow public footpath signs on the right hand side to get you onto the Cumbria Way.
Follow this, through styles and kissing gates until you reach a stone style with a small wooden gate at a road (~2km). Cross the road and bear right for 50m finding another gate where the path continues up hill in the forest.
This track leads through the forest for approximately 600m until you reach a farm(including a small tea-shop). Cross the cattle grid and turn right onto the road. Follow this road through a picturesque valley downhill until you reach a wooden footbridge over a river (~3.8km).
Continue along the path for another 150m to find a gate and stile on your left heading back and up the hill. This is the entrance to Cathedral Caves (~4km).
Once you've finished exploring the caves, return to the main track and continue along through another gate until you see an old bridge on your right in a field. This is Slater Bridge. Cross the bridge, turn right through a gap in the wall and follow the path until you reach a road (~5km). Walk up hill on the road to a junction and the small hamlet of Little Langdale.
Walk downhill to the right, through Little Langdale and past the pub. Your next turn is on the left after ~300m and is sign posted for Elterwater on a knee high slate sign. Head up hill, initially on tarmac, then a gravel path and through a flat field. At the end of the field (~6.25km), head right on the road, turning left as you come to another gate and a rocky path in the trees (~6.5km).
This path will continue through the woods until you drop down a steeper section of woodland track before arriving at another road and a house (~6.8km). Follow signs towards Elterwater. Walk through the slate quarry (~7.25km) following the well marked path and continue to head down hill through the trees.
You will soon see another river on your left – Great Langdale Beck (7.5km). All pathshead towards a metal bridge and a scenic weir by a pub. The route then continues tofollow the line of the river for another 3 Km), through Elterwater (where you crossover the river) and finally back to Skelwith Bridge.

Read more ...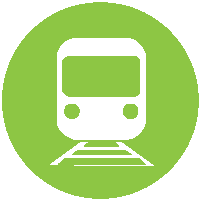 Nearest Train (or tube) Station(s):
Windermere (6.7 miles)