Walk Details
Petworth Park is a 700 acre deer park and is one of the finest surviving and unspoilt examples of an English landscape designed by Lancelot 'Capability' Brown.
Boasting far-reaching views of the South Downs, the historic park is an ideal place to escape the crowds, take an invigorating walk and let the children run wild.
Petworth Park is open for you and your dog to enjoy every day of the year.
There are two car parks for Petworth Park. One is predominantly for those who are visiting Petworth House and the landscaped gardens which are owned by the National Trust. The other car park is at the far end of the park and is used by those who are solely going into the deer park which is free to enter.
Dogs are welcome on this walk – although please be aware that this is a deer park and caution should be taken when around the livestock.
Our walk takes us anticlockwise around the park, although you could easily do it in the opposite direction if you wish.
The park is home to some beautiful, ancient trees – including some that date back over 1,000 years and predate the house itself.
As you approach the far end of the park from where we started, you will come to the pond which is rich with wildlife.
Circling back round, I wonder whether you'll find the fallen tree that looks like a dragon? Take a moment to pause in the hollowed out tree and look up – I wonder what stories this tree trunk could tell of others who've hidden in it over the years?
Whilst this walk is step and stile free, it is on uneven ground that may get muddy in wet weather.
If you are starting this walk from Petworth town centre – you can cut through the staff car park on North Street, walk across the yard and through an underpass into the park.
Read more ...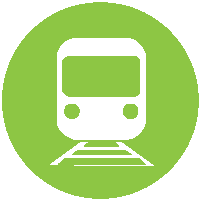 Nearest Train (or tube) Station(s):
Pulborough (7 miles)