Walk Details
This walk takes you around the boundary of Brimham Rocks in North Yorkshire, a weird and wonderful collection of natural rock formations dating back 100 million years.
The views throughout are far-reaching, and these giant rock formations are a spectacular sight.
Read more ...
They were created by a powerful river that cut through the region, long before the first dinosaurs walked the Earth.
Visitors are free to explore the site. The National Trust have named some of the rocks, from the Dancing Bear and the Gorilla to the Eagle and the Turtle.
Brimham Rocks and its heather moorland are both Sites of Special Scientific Interest and are a magnet for geologists, naturalists, climbers and walkers, as well as families who love the freedom to explore this amazing place.
This 3-mile loop walk visits the rocks and gives you a chance to explore the rolling countryside that surrounds the popular National Trust site.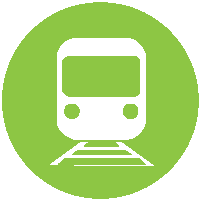 Nearest Train (or tube) Station(s):
Skipton, Leeds