Walk Details
This walk starts at the National Trust's Longshaw Estate tea room, then explores ancient woods, tumbling streams, parkland and Peak District moorland.
This is a wonderful landscape to walk, right in the heart of the Dark Peak area with dramatic hills and spectacular gritstone edges crying out for your boots.
Read more ...
With your back to the tea room, walk down the path, turn left and follow the path to a gate. Through this gate you'll see yew trees and two millstones. Go through the gate slightly to the left onto the main drive.
Walk along the main drive, between twin gateposts and past a companion stone. Continue past the crossroads, marked by a four-way wooden signpost, and go through a double gate. Go past another gate on your right and carry on until you reach a stile on your right. You are now following the old packhorse route.
Look out for pied flycatchers in the woods, which return from Africa every April to nest.
The rangers and volunteers put up and look after nest boxes for them and will be checking on them throughout spring and summer.
This area is a haven for birdlife. It is beautiful no matter what time of year. If you don't want to do this walk as a whole, there are lots of little sections that you can take and do individually to shorten it.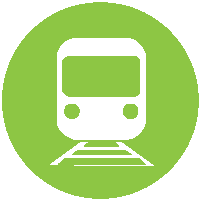 Nearest Train (or tube) Station(s):
Grindleford, Sheffield