Walk Details
This short walk explores the peace and tranquility of the lakeside paths in the Menagerie Gardens of the National Trust's Nostell Estate in West Yorkshire.
This walk is particularly stunning in autumn when the landscape becomes coloured with flame reds and burnt oranges as the leaves begin to turn and fall.
Read more ...
It's a lovely little family-friendly route and the stories behind it are fascinating.
Look out for the distinctive acers in the Menagerie Garden, golden hazel and cut leaf beech trees along the pathways and carpets of conkers, acorns and pine cones in the woodland.
Views across the tree-lined lake from here on a sunny autumn afternoon make for fantastic photo opportunities. The cock fighting pit is now (thankfully) a pond and home to both smooth and great crested newts.
Beneath the large holm oak tree there are the remnants of a stone lion. The garden was once home to a large black eyed lioness, which was once reported as lost in 1882. This and other animals were kept in cages along the quarry wall.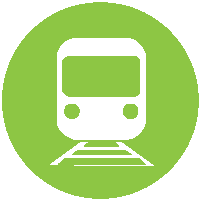 Nearest Train (or tube) Station(s):
Wakefield, Leeds