This circular walk around the National Trust's Old Saltburn property features a stretch of the Yorkshire Heritage Coast and amazing ocean views.
The walk starts from the car park on the seafront at picturesque Saltburn-by-the-Sea. There's a very nice place to get fish and chips or an ice cream nearby.
Head onto Old Salturn in the direction of Warsett Hill along the Cleveland Way cliff path.
There are striking sea views on your left and stretches of open grassland ahead and to the right. You'll meet a variety of sculptures as you make your way along, and there are plenty of places to stop if you're planning a picnic.
The boulder clay cliff slopes support a fantastic variety of coastal wildflowers in the summer months. Wild flower enthusiasts could look out for hemp-agrimony, pyramidal orchid, fragrant orchid, birdsfoot trefoil and betany.
You'll need to cross the railway line (with stiles) before making your way to the top of Warsett Hill, once the site of a Roman defensive sight station. The panoramic views from the top are well worth the climb!
A gentle walk down the other side of the hill, another careful crossing of the railway line, and on across beautiful meadows will lead you back to the car park, and that well-deserved ice cream.
Read more ...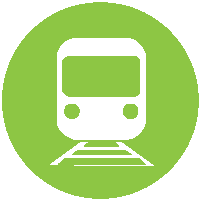 Nearest Train (or tube) Station(s):
Saltburn, Middlesbrough