Walk Details
This lovely short walk starts from the National Trust's Wray Castle on the shores of Lake Windermere and visits Blelham Tarn before looping back to the start.
The route combines tranquil beauty, great views and fascinating stories from the past. Not far from Blelham Tarn a sword from the Iron age was found, which deliberately broken in half, possibly as part of a burial or a ceremony by a chieftain to claim an area of land. Finds from this era are rare in Cumbria.
Read more ...
Ten thousand years of history have been uncovered from the sediments of Blelham Tarn. Every aspect of the tarn's geology, silts, sediments, vegetation and animal life have been studied in detail, making it one of the most important freshwater research sites in Britain.
The turrets and towers of the gothic Wray Castle provide a great start and finish point, and we recommend arriving in style across the water on a Windermere boat cruise.
Low Wray campsite is a perfect place to base yourself when exploring the area and going out on local walks.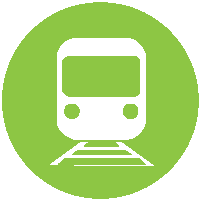 Nearest Train (or tube) Station(s):
Windermere, Lancaster
 Click photos below for more information: