Walk Details
Situated between Norwich and Great Yarmouth, this is a beautiful woodland that extends far and wide, connecting Burlingham to local villages across field paths and therefore making the trails ideal to explore further as your child grows.
There is a 1.5 mile loop which is accessible for pushchairs and wheelchairs (and bikes!) which starts at the church car park. This stretch is called 'Drive Plantation' and the compact surface meanders through the woodland.
From the church, the path to the left has the compact surfaces, whereas the right-hand path is a bit more 'au natural' and can be muddy and a bit 'rooty' – although off-roader pushchairs should cope okay.
Drive Plantation leads to Millennium Wood which has recently had 'Burlingham Henge' installed – wooden pillars around a majestic, beautiful oak tree, each having been decorated by a local community group in the shades of the rainbow! You will also find a Swap Box here You will find three brass rubbings along the left-hand path stretch, which have been created by the artist John Behm. Drive Plantation also has small patches of snowdrops in February.
Church Plantation is a mobility access walk but we found it a bit overgrown in the summer which has narrowed the path a bit – Drive Plantation has wider paths. The Long Plantation and Belt Plantation are more suitable for baby carriers. I absolutely love the Belt Plantation woods – there are tree stumps and dens and it's a gorgeous little walk.
Read more ...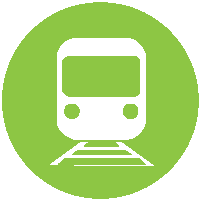 Nearest Train (or tube) Station(s):
Norwich