Walk Details
This 2.1km there-and-back walk is just around the corner from Dartmoor's famous Haytor Rocks.
It follows the wooded River Bovey valley where otters, kingfishers and even bats live on the banks and amongst the trees. There'll be plenty of puddles, and even a river to splash in so bring your wellies!
The car park doesn't have toilets but you'll find some just down the road at Parke (National Trust) or at the Tourist Information Centre in Bovey Tracey. The main track is doable with a rugged pushchair but expect mud and bumps.
Head downhill along the gravelled Old Manaton Road. This wide dirt track is mostly used by walkers and cyclists now but it's still a byway so there's just a chance you might see the occasional off-road vehicle. You might also see cows, ponies and sheep!
As you walk down the hill, see how many different leaf shapes you can spot. There are plenty of trees to choose from. It rains so much here, the area is known as a temperate rain forest. Kind of like a jungle but not as warm!
Carry on down this track until you see a big round boulder on the right. This is called the Pudding Stone. Nobody really knows how it got the name but feel free to sit on top and eat something tasty.
Turn right at the boulder and follow this new track towards the river. Please shut the gate behind you. Just a little way down you'll find a lovely old stone bridge that was once used by packhorses. There's also a ford here where the river is usually shallow enough for a little paddle. If you visit in spring, you'll be treated to a carpet of bluebells.
Have plenty of waterside fun but save a bit of energy for the walk back up to the car park. 
Read more ...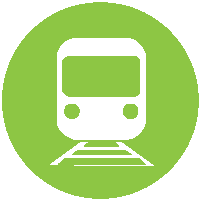 Nearest Train (or tube) Station(s):
Newton Abbot