Walk Details
This is a walk for all seasons. And it is a nice easy one following a circular route covering 4 miles.
Almost all the way you will be accompanied by the gentle sound of bubbling brooks and streams flowing gently nearby.
Read more ...
In the spring wooded inland paths are carpeted with bluebells and wild garlic, leading to quiet farm lanes dotted with primroses.
Summertime finds the banks of the streams ablaze with yellow flag irises, foxgloves and campion.
While in Autumn flocks of migrant seabirds can be seen passing offshore and the stubble of the fields is almost hidden by armies of small birds feeding on fallen seeds.
And in the winter? Well there's a good chance of snow to make it all look even more perfect.
Rock formations and spectacular plunging waterfalls along the way make for spectacular scenery. Views of spectacular rock formations and black finger-like reefs exposed at low tide provide the scenery at the start of the walk. Especially when contrasted with banks of pink thrift, sheeps bit and yellow birdsfoot trefoil, present in the late spring and summer.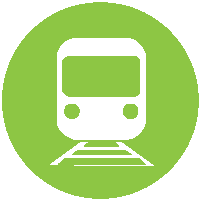 Nearest Train (or tube) Station(s):
Barnstaple
 Click photos below for more information: