Walk Details
Cley Hill, on the Somerset / Wiltshire border is a prominent hill visible from the nearby A36. It's owned by the National Trust and is free to visit. Archaeological features of the hill include a large univallate Iron Age hill fort, two bowl barrows and medieval strip lynchets.
Local folklore suggests that the hill was formed by the devil, when he dropped a sack of earth with which he had planned to bury the town of Devizes. He had retrieved the earth from Somerset and was travelling to Devizes when he stopped to ask an old man the distance to the town. The man replied that he had been walking for years to reach Devizes, so the devil abandoned his plan and Cley Hill was formed!
There's a small car park located just off the A362 (if you're heading from the Longleat roundabout towards Corsley / Frome – it's on the right-hand side. Look carefully for the small National Trust sign or you may miss it!)
From the car park follow the well trodden track, past the farm and to the base of the hill. Here you'll come to a kissing gate to your right. Go through there and walk around the base of the hill until you see a wider path taking you upwards to the summit of the hill.
At the top you'll find an Ordnance Survey trig pillar and enjoy fantastic views (on a clear day) across Somerset and Wiltshire. From the summit I like to head to the northern most part before I head down. You'll notice where others have trodden before – if it's been raining, be careful as it could be slippy in places. 
As you near the bottom you're heading around to your right, to the east. There are clear ridges in the hill that you can follow.  Ahead of you is Little Cley, a much smaller mound. Walk around and over the top of it, or the other way round if you prefer! 
Heading back towards Cley Hill – find a ridge that you're comfortable walking along and head back around the base, back towards where you started. Go back through the gate, along the track and back to your car.
Cley Hill is often used for livestock grazing so if you are walking with a dog please be mindful of this and keep your dog on a lead around any livestock.
Read more ...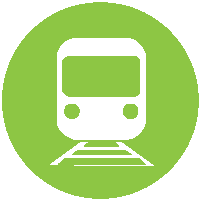 Nearest Train (or tube) Station(s):
Frome (4.2 miles) or Warminster (3.1 miles)