Walk Details
This is a lovely circular walk that starts and finishes at the free car park at the entrance to Setthorns. You will need to go through the gate to start the walk and into the woods.
Being an enclosure it means that there shouldn't be any of the free roaming livestock in the woods – although there may be deer!
Follow the path straight on until you come to a very clear cross roads. Here you go left. and continue until you come to another clear cross roads in the path. At this one you go straight on and up the hill. As you reach the top of the hill you follow the path round to the right as it heads down towards the edge of the fence and another gate to go through back out into open forest. As you pass through the gate there's a lovely shallow stream to your right – it's great for dogs to splash around in, especially in warmer weather.
From here you can either retrace your steps back into the enclosure or, as you return to the gate, stay outside of the enclosure, with the fence to your left and follow the path back up towards the car park when you started. If there has been heavy rain this track is likely to be very muddy and caution should be taken – especially as the free roaming live stock When you come to the road – follow it to your left and you're back at your car.
Whilst the path through the enclosure is suitable for pushchairs and some wheelchairs (the gravel and hills may make it hard for manual wheelchair users) – the track outside of the enclosure on the return is not suitable and you are recommended to retrace your route back from the stream.
Read more ...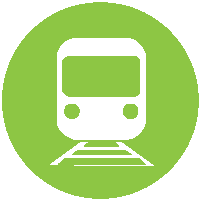 Nearest Train (or tube) Station(s):
Lymington