Walk Details
This walk is approximately 2.5 miles in total, but often takes longer due to the Views which take time to absorb and enjoy. On a clear day you can see as far as the power station of Dungeness on the shingle headland that extends from Romney Marsh.
Park in one of the many gaps along the Edge of Crete Road West just off the A260 and pass through one of the many entrances to the Downs and generally head right, to the south.
You will be passing along an ancient Bronze age trackway and trading route that will take you through the Caesars camp, an old Motte and Bailey Castle of Norman origins, probably built around 1085 and not Roman at all. If you look at the mounds you can see where the Motte would have been, that's the Hill with the wooden keep on the top.
If you keep your eyes and ears open you will likely see and hear yellowhammers. The call 'a little bit of bread and no cheese' is unmistakable.
Whilst traversing the hills make sure you stop and experience the views in all directions, you will experience the views mentioned above as well as France and a grand view over the Channel Tunnel Works. Take note too of the raised road ways that exit from the Round Hill Tunnels. You will be walking under those later.
Once you have passed the Fort you will see a path to the right that heads towards the road, follow this and at the end take a sharp left downhill that goes toward the old water processing plant now disused and turn left when you see the footpath sign and head through the woods.
As you descend the hill you will become aware of the road noise of the A20.
In spring take in the many examples of early purple orchids and yellow archangel that can be found across the woodland floor.
As you leave the woodland pass under the raised road sections of the A20. Enjoy the contrast between the beautiful countryside and the modern engineering that is the bridge. A fascinating juxtaposition.
As you head across the meadow heading slightly left, you will notice just how quickly the road noise disappears and enjoy the meadow, full of clovers and birdsfoot trefoil.
Eventually you will enter the woodland and meadow below where you parked your car. There are often cattle here, but they will make way for you as you pass through this ancient landscape that feels as if it hasn't changed in ages. It's a little boggy, but there are wooden walkways and there are steps carefully placed in all the steep sections. Make sure you stop and look back over the way you have come as you take several breathers and once again admire the view.
Author: Simple Life / Simon Pollard
Read more ...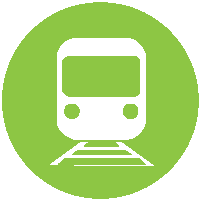 Nearest Train (or tube) Station(s):
Folkestone Central