There are about 50 public footpaths in a radius of half a mile around Hay-on-Wye, offering a range of enthralling and exhilarating walks. And here are two of the best Hay on Wye walks, one Bluebell walk and the second ends with you walking Offas Dyke for the last section into Hay itself.
An easy and beautiful walk of just under 4.5 miles leads you past the Icarus sculpture in the Hay Cemetery — a mother's artistic tribute to her son killed in World War II —
Read more ...
before ascending up through Hay Common to the Wren Wood Ridge for spectacular views to the Brecon Beacons and a perfect spot to view the stunning sunsets.
At this point you have a choice of two walks.
If you continue with OPTION 1 you will soon find yourself in a field of rare orchids. Continue walking downhill to reach Offas Dyke and return to Hay.
In April and early May, if you want to see a bluebell wood, you should take OPTION 2.This starts from Wren Wood Ridge and takes you along the edge of Long Wood. Cross over a style and you're now in Tylau Wood. Walk a little further and you wander in to the wonderful blue flowers of Rook Wood. When the flowers are not in bloom, the wood has other treats in store – there's plenty of wildlife and birds to spot!
On the other side of Rook Wood you can return to Hay by walking across a few fields until you reach the cemetery. To mark the end of your walk, visit The Blue Boar for a beer and sandwiches.
If you continue with Option 1 you'll eventually join the Offa's Dyke Walk which takes you back into Hay. As you cross Hen Allt Common, you'll find one of our rarest species of wild orchid in June, July and August. A photo taken on the Offa's Dyke Walk looking down towards Hay at sunrise in late September shows the magic that is everywhere around Hay.
Descending into Hay via Offas Dyke Path, you will pass sheep and cows grazing in the fields, before ending up in a water meadow just before the town.
Hay has been singled out as one of the happiest places in which to live in the UK and there's lots to see : a castle, more bookshops than you can ever visit, designer clothes shops, eccentric collectable shops, a state-of-the-art cinema, great cafés and restaurants, a bustling Thursday morning market, bakeries and more!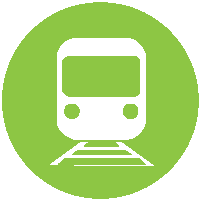 Nearest Train (or tube) Station(s)
Abergavenny, Merthyr Tydfil