Walk Details
Millom is one of Cumbria's hidden away corners.  Little explored by visitors but popular with locals and 'those in the know'.  On a clear day the views are vast and expansive with the far reaching vistas across the Irish Sea in one direction and beautiful Black Combe in the other.
Although this is listed as Wheelchair Friendly, there is some stony ground to contend with in places, which I know can sometimes be a challenge, but the route it pretty much flat and the views make it all worthwhile.
The site is also an RSPB Nature Reserve meaning there will be plenty to see, so definitely pack your binoculars.  The variety of habitats, from the rocky shoreline to the enormous sea wall and lagoon, draw in a good variety of species all year round. If history is more your thing, then we've got that covered too – there are disused mine buildings from the days when this was an iron ore mine, and the iconic Haverigg Lighthouse.
It's not a long walk, so if you fancy something extra then try exploring Hodbarrow Mains, or the sand dunes of Haverigg Bank.
Read more ...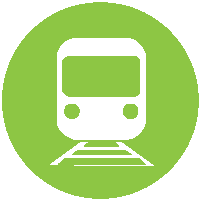 Nearest Train (or tube) Station(s):
Carlisle