Beth's Smardale Gill Nature Reserve Walk
Smardale Gill is a nature reserve managed by Cumbria Wildlife Trust and the beautiful arched viaduct at the centre of this route will take your breath away.  It is high up, but it's very broad so shouldn't be a problem for most children (or parents!).
Read more ...
By approaching from the south you get to enjoy the old railway line – look for the old signal box and station platform along your way – and although it's not "meadow shaped" the grasslands along the way are rare hay meadows which are managed naturally by scything and horse grazing.
The old railway route runs right along the valley passing 2 disused railway workers houses, sadly now derelict but still providing a home for assorted birds and bats.
If you fancy something more arduous follow the track beyond the viaduct and drop down through the woodland to the beck in the valley below.
(NOTE This is a VERY steep and slippery route) – there you will find ancient woodland flowers such as herb paris as well as a few brambles ripe for the picking in the autumn.
The line used to continue up and over Bleath Gill to the north and you may enjoy this old film from 1955 showing what happened when a train got snowed in there one winter.
Verdict of the walk: A picturesque walk with the perfect balance of history and wildlife.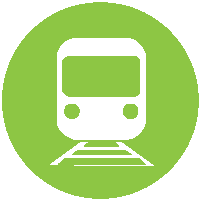 Nearest Train (or tube) Station(s):
Carlisle
 Click photos below for more information: