Walk Details
St Bees and Whitehaven are best known among the outdoors community as the starting places of either the walking, or cycling C2C, but to only visit them as a start (or end) point would be to miss out on some of the most fascinating history in Cumbria.
In St Bees you'll find the tiny statue of St Bega, after whom the town is named.  Bega is said to have been an Irish Princess who escaped a forced marriage to a Viking prince by fleeing across the Irish Sea in a small boat. 
In addition to the statue there is also a beautiful stained glass window dedicated to her in the Priory.
St Bees school, in the heart of the village, was founded in 1583 after the then Archbishop of Canterbury described the area as "… the ignorantest part in religion, and most oppressed of covetous landlords of any one part of this realm." (charming!)  The first school building was built using stones robbed from the Priory and the words "Enter so that you may make progress" are still visible above the original door.
After pausing for an ice-cream on the sea front (essential carbo-loading for the journey!) follow the route up onto the cliffs and enjoy the magnificent views.  The RSPB have a number of viewpoints and information boards to help you identify the huge variety of wildlife along the way.
If you're up for it, take a short detour down onto Fleswich beach where it's said that precious stones can be found amongst the pebbles on the shore…
As you drop down into Whitehaven the 'Candlestick' is the most prominent landmark and a reminder of Whitehaven's mining past. It which was once part of Wellington Pit and was reputedly modelled on a candlestick owned by the Lowther family. It was retained when the pit was demolished, but not just for aesthetic purposes, it continues to act as an escape vent for methane gas still being given off by the pit below.
There are several excellent museums in the town:  Haig Pitt museum tells you all you need to know about the history of mining, The Beacon provides a wonderful general history and The Rum Story delves into the ship building, and rum trading, past.
The town is also said to have provided the inspiration for the street plan of New York, is listed as a 'Gem Town' (one of only 51 in the country) and is the final resting place for George Washington's grandmother.
It's perhaps a good idea to allow plenty of time for looking around at the end of the walk…
Read more ...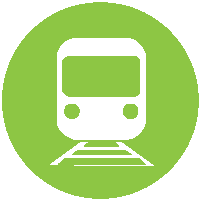 Nearest Train (or tube) Station(s):
Carlisle
 Click photos below for more information: