Walk Details
This walk takes us around a peninsula on the west side of Lough Ree where the remains of the once thriving medieval village Rinn Duin lay, once known as 'the Camelot of the Shannon'. An old church, windmill, castle, walls and an old hospital (where you can find the oldest marked grave in Ireland!) evidence the past success of the complex.
The route combines shoreline, woodland and medieval remnants to make for a thrilling walk in the magical Irish countryside.
Read more ...
The ancient native woodland, St John's Wood, is a special treat – keep your eyes peeled for fairy trees (hawthorns) and the hidden bluebell wood that is in full bloom around springtime.
As you loop round to the tip of the peninsula you'll enjoy the stunning views over the Lough before turning back to seek out more medieval treasures along the path pack to the start.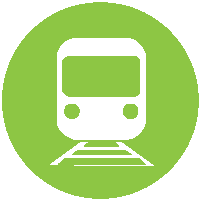 Nearest Train (or tube) Station(s):
Athlone, Dublin