Walk Details
Here's a nice walk to try!
Turn left at Webb Street to the Town Quay; the foot ferry for Polruan operates a quarter hourly service from this quay. Even on this short journey you'll get great views of Fowey and Polruan. Once on dry land, head up the access road.
Read more ...
In 20m. turn left into East Street, and head up the steep bank out of the village. Ascend the first of many steps, and turn right past the 'Hall Walk' sign.
In 40m, you'll see another 'Hall Walk' sign , turn left and go up the steps. The higher you go, the better the views! There are seats too to appreciate them further (or to rest those legs) Ignore any tracks which descend towards the water or you'll miss out! .
Next you'll pass a 'North Downs' National Trust sign and when you reach a surfaced road, go 20 m and turn right. The 'Pont & Bodinnick' signpost is the time to turn left where you will cross a little stream, go straight ahead at the fork in the road and reach a major junction of tracks close to a little gate.
Continue towards 'Pont and Bodinnick'. Go down a few steps and through a little gate. This gentle descent offers lovely views of the upper part of the valley before you reach some steps and a little gate. Once the path widens,  turn left and head down to the quiet hamlet at Pont Quay across a footbridge. There is also a former lime kiln.
Bear right at a 'Bodinnick' sign and in 100m, take a sharp left and head down a long rocky path. Go through a gate or if you're feeling fit, climb over the traditional stile at the top, and bear left.You'll re-enter the woodland in around 100m where you'll pass a National Trust 'Hall Walk' sign. The path is relatively smooth but keep an eye out for any bumpy tree roots beneath your feet!
The track bends to the right at this point and passes a memorial to Sir Arthur T. Quiller-Couch, a notable Cornishman, writer and scholar, and  fellow of colleges at both Oxford and Cambridge.  At the next National Trust sign, go through the gate and head down to Bodinnick village.
Finally, turn left at the public road and walk down to the car ferry. Take a moment to stop at the house on your left as this was the home of Daphne du Maurier, author of Rebecca and other novels. With her famous opening line "Last night I dreamt I went to Manderley again." in your head, it's time to return, sadly not to Manderley but the ferry!
Carpark: National Trust Car Park, SW Coast Path, Lanteglos, Fowey PL23 1NP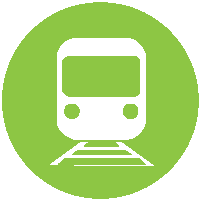 Nearest Train (or tube) Station(s):
Looe, Plymouth