Walk Details
Your starting point is a rather nice sounding 'Kissing gate' at Talland Bay  from which you follow the path for three miles with great views of St. George's (Looe) Island. Cross a tiny stream and go through more kissing gates.
When you come to the fork, take the left andcross the bridge and the National Trust 'Hendersick' sign. Go up a long flight of steps and head up to reach a waymaked post at a junction.
Read more ...
Continue straight ahead along the coast path following the signs for 'Polperro 23⁄4 miles'. Gorse is the dominant vegetation for much of this route but in Spring, there's lots of flowers too. Take time to smell the flowers but don't forget to look up as the views are very nice too at this point!
Talland Bay will soon come into view. Leave the National Trust property, go down steps, and head down back to Talland Bay. On the far side of the bay, you'll see rugged Downend Point. To the right is the Smugglers' Rest, licensed café.
Join the road by the signpost, turn left, then left again, and head towards the beach and the Talland Bay Beach Café. There are several signposts, with estimates of the mileages to Looe and to Polperro.
Continue, turning left at a waymarked 'T' junction. Be aware this part ifof the walk is short but will test your thigh muscles!
Half way up, you'll see a waymarked post, where you should turn left and go up a few steps, along the coast path to a remote house called West Cliff Old Court. Despite what the sign says, it's more than 2.5 miles to Polperro!
At this point, continue along the path where you'll come to the Polperro War Memorial. From this point on, you'll be descending to the harbour – take care as you look at the views ahead!
For those of you not taking the ferry, the carpark at Crumplehorn is about  half a mile from the harbour and the bus stop is a short distance along the road to the left.
Note – In season there is a frequent service of electric powered 'Polperro Trams' shuttling to and from Polperro village. 
Carpark: Looe Harbour Car park, Unnamed Road, Looe PL13 1HH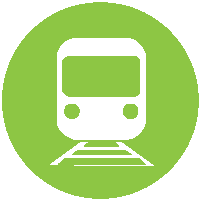 Nearest Train (or tube) Station(s):
Looe, Plymouth