Walk Details
Leave the Manor along the access drive. Turn left by the side of the main road.
1. 100 metres along the main road,  turn left past the 'Tredinnick Farm' sign. Pass through Tredinnick hamlet, then in approximately 200m. turn right, along the access drive to Tredinnick Farm. You're in the right place if you now find yourself on a  muddy lane 'unsuitable for anykind of vehicule!.
Read more ...
The lane descends the side of the West Looe Valley and once you reach the waymark sign, keep right.  After a farm gate, the descent into the valley becomes steeper. Careful where you put your feet! – there's a lot of rocks and bumpy bits here.
NB If it's raining, you're advised not to head down the Redinnick Farm path but stay on the road. If so, you should follow this trail to Point 4 at Sowden's Bridge where you should re- join the walk as described and follow the directions from Section 3 onwards.
2. Back to the descent however – and you should now be heading towards the ford across the river. Don't cross it, but turn left before the gate along the narrow path which follows the river for a mile and a quarter. Keep going straight ahead. There are occasional waymarks to check you're on the right path and a few styles to climb as well!
3. Join a minor road close to Sowden's Bridge. Turn right to cross the bridge and follow the road round to the left, following the signs to 'Watergate'. The road follows the river to Watergate hamlet and past a massive former (and unsafe) lime kiln on the way, so take care!.
4. At Watergate heads uphill to the right. You should leave the road at the 'public footpath' signpost on the left and take five minutes to rest your feet at the 'Kilminorth Wood' display board. There are various trails through the wood, but the one which stays close to the river is recommended as it's a nice easy walk through the woods where you will hear the birds who like to sing here!  At high tide, a section of the route by the side of the water may not be usable; in which case you should head up the bank to your right.
5. You'll reach Kilminorth Wood via a gate. Continue along the side of the West Looe River, with a huge car park on the right. Cross the carpark, past the amusement arcade and Looe Bridge. Cross the bridge and the stop for the bus to Duloe is just to the left, close to the Looe medical practice.
Please note if you decide follow the route in reverse from points 4 to 2 – take extreme care as this is not for the faint hearted!
Map: Ordnance Survey Explorer OL7
Carpark: Looe Harbour Car park, Unnamed Road, Looe PL13 1HH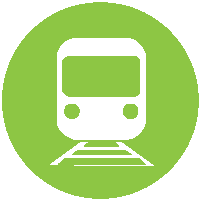 Nearest Train (or tube) Station(s):
Looe, Plymouth