Walk Details
1. At the junction cross over the road and through the gate, before turning left along a narrow path. It's a bit twisty this path but you're soon at the Pont Pill valley.
2. Keep to the left, cross a small stream and join the surfaced roadway for 20m. Next, take the path on the left and continue along the path towards Polruan.
Read more ...
There are splendid views across the water to Fowey and welcoming seats before you start heading down to Polruan. Mind the stairs! by several flights of steps. Once at the harbour, you might want to stop at the The Lugger Inn, for a rest and a cuppa.
3. No rest for the wicked though as there's always the return journey! Head back to West Street and go along the 'coast path and blockhouse' sign with views over the estuary, passing a church.
Turn left at Battery Lane, straight ahead at the junction and pass Headland Garden. At the 'coast path, public footpath, Polperro 61⁄2 miles' sign, turn left.
Once you reach Polruan, pass another coast path sign and turn right. Past the car park, a coastguard building and you come to a gate, where at the suburbanised 'St. Saviour's Tower' you should turn right.
4. Go left through a gate in a few metres and continue along the coast path. At the fork, keep walking with the sea to your right and falls, with occasional small gates. At the next significant fork keep right, and go down a few steps to a little gate.
5. After what is the longest and hardest ascent of the route, there is a farm gate on the right; the coast path continues through the gate. Turn left here to leave the coast path and walk along the top of a sloping meadow. There is a 'Pencarrow car park 1⁄4 mile' sign. On approaching the road, go right, through a little gate, and follow a roadside path as far as the junction. Cross the road and return to the car park.
Carpark: Lantic Bay Car Park – National Trust, Lanteglos, Fowey PL23 1NP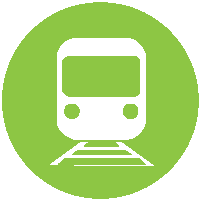 Nearest Train (or tube) Station(s):
Looe, Plymouth