Walk Details
The well-loved villages of Upper and Lower Slaughter share the gentle valley of the River Eye. Both have many attractive features, the Lower village, with its former 19th century corn mill, winding watercourse crossed by little bridges, cottages and alleyways, being
a particular favourite.
Drive through/past Broadway to head along A44 towards Moreton in Marsh.
Read more ...
Fork right along A429 to Stow on the Wold. At the second major junction turn right, along B4068 to Lower Swell. Turn left. Fork right in ½ mile to reach Upper Slaughter along a minor road in two miles.
The walk is an unashamedly gentle ramble connecting the two villages, using a good path and a quiet minor road.
Leave the parking area along the road which goes slightly uphill, with the village institute on the left, then a fine row of cottages set back on the right.
1. At a road junction in 150 yards turn left ('Lower Slaughter' road sign). Pass the gate of Upper Slaughter Manor, a fine Tudor/Jacobson structure and continue by the roadside, turning left at a junction in ¼ mile. Reach Lower Slaughter, with a stream on the left, then the former mill and the lovely cottages, little greens and footbridges. Walk around the village before circling back to the old mill, recommended for shop, crafts and refreshments.
2. Start the return along the path behind the mill at a 'footpath, Warden's Way' sign. Go through a kissing gate, followed by a second in 25 yards. This gate still carries a little plaque – 'Prince Charles and Lady Diana 19.6.1981'. The path stays beside the extensive mill ponds, fringed by magnificent willows. Go through an old kissing gate, cross a meadow on a well-used track, go through another waymarked kissing gate and cross a broader meadow to a waymarked gate. Continue to another waymarked gate and an old footbridge across the River Eye, little more than a stream. A footpath between a stone wall and a newly planted hedge leads  up to the public road.
3. Turn right to walk down the road for a short distance to a bridge over the river. A few yards before the road junction turn left along a path, passing a seat and over a waymarked stile to stroll  by the riverside to another stile. Go over then turn left at once to cross the river again on a footbridge by the side of Upper Slaughter's celebrated ford. Walk up the road, passing the former schoolhouse (note the bell) and the entrance to the churchyard on the way to the parking area.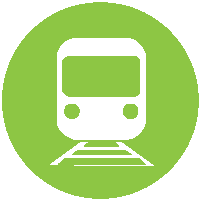 Nearest Train (or tube) Station(s):
Moreton-in-Marsh, Cheltenham Spa