Walk Details
Situated in a beautiful valley, the tiny village of Buttermere has long been a favourite gathering place for walkers.
The fame of the Fish Inn, the story of the unfortunate Mary Robinson, retold by Melvyn Bragg ('Maid of Buttermere'), the fine lakes of Buttermere and Crummock, the District's highest waterfall (Scales Force) and the legendary A.
Read more ...
Wainwright's favourite mountain. Haystacks, resting place of his ashes, all contribute to this rather special place.
Also worth seeing is the neat little church perching above the rest of the village. Look for the shepherd on the gate! The gentle ramble around the lake is a Lakeland classic, recommended without reservation for all walking abilities.
From the car park start along the road towards the Honister Pass.
In less than 100 yards after passing the Bridge Hotel turn right at a 'public bridleway, lake shore' signpost. Pass through Syke and Willinsyke Farms to follow a broad stony track descending gently towards the lake. Turn right at a junction, pass along the edge of a rocky section and through kissing gates to reach the shore. The path continues through light woodland before passing through a tunnel under a rocky spur. At any junction keep close to the shore. There are well placed seats and the occasional gate, the route is always obvious. Rise gently to join the Honister Road.
Turn right to walk by the roadside for about one third of a mile to Gatesgarth Farm, prominent from the road is the little white cross, low on the ridge leading up to Fleetwith Pike, ahead, 'erected by friends of Fanny Mercer, accidentally killed 1887'. Cross the bridge, turn right at once along a 'public bridleway' and follow the signs carefully through the farm. Carry on along a broad track across the low alluvial land above the lake crossing Warnscale Beck on a footbridge before rising to a kissing gate.
Turn right to take the 'public bridleway, Buttermere', a delightful path never far from the lake shore, offering numerous opportunities for picnics.
After reaching the rather artificial Burtness Wood, for some distance there is a choice between a narrow path right by the shore and a broader track higher in the woodland. The two rejoin before a bridge over Sourmilk Gill is crossed, followed by a longer bridge over Buttermere Dubs, the lake out- fall stream.
Continue along the broad, easy, track leading straight back to Buttermere village.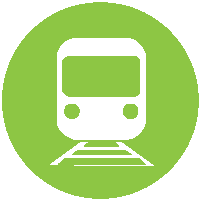 Nearest Train (or tube) Station(s):
Parton, Carlisle