Walk Details
Starting from Langton House enter the lane running alongside the complex, known as Durnford Drove and make towards the coast via Spyway Barn, which is soon evident. A waymark to Dancing Ledge confirms the way.
Continue towards the sea, following a steep descent to Dancing Ledge (see Walk No 1) then swing left along the well used "South West Coast Path" all the way to Durlston Head.
Read more ...
The route passes above Blacker's Hole, noted for its seabird colonies. The two sets of mile marker posts are used by the Royal Navy – for speed trials – and the lighthouse at Anvil Point, built in 1881 following a disaster at sea in 1874 near Peveril Point, when the "Wild Wave" was shipwrecked. Also the "Caves" at Tilly Whim, where limestone was quarried. In 1887 George Burt, the owner of the Durlston estate and nephew of John Mowlem the founder of the building contractors, opened the caves as a tourist attraction and these remained open until 1976 when rock falls caused the caves to be deemed unsafe.
Tilly Whim contained a thick band of freestone, a valuable type of Purbeck limestone, for which quarrymen mined horizontally into the cliff face.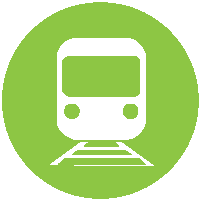 Nearest Train (or tube) Station(s):
Swanage Railway, Bournemouth
 Click photos below for more information: