An attractive loop through the Invertrossachs Estate with fine views across Loch Venachar to Ben Ledi.
Distance – 7 Km (41⁄2 miles) with 230m (700 feet of ascent). Allow 21/4 hours.
Start Point – East Lodge, Invertrossachs (NN592055). Turn left out of Tigh Mor & drive towards Callander.
Read more ...
Once you have passed the eastern end of Loch Venachar, take the minor road on your right signed 'Invertrossachs' bearing in mind that this road has weight restrictions 
Once across the bridge, turn right and drive along the southern shore of the loch. In about 11⁄2 miles you will pass between the two white gateposts of East Lodge. The car park is just beyond this on the left.
WALK INSTRUCTIONS
The track is signposted 'Invertrossachs Loop 3 3⁄4 mile. Pass through the metal barrier  and walk uphill turning left at a waypost on your left.
Go past the overgrown track to your right and continue to the next junction where in 200m you'll reach Point 1 (NN590051) Carry on straight ahead,past the path to your left and head downhill for about 2km. This should take around 30 minutes and then you'll be at NN575042 where there's a fork in the track just before a small lochan.
Turn right, so that the lochan is on your left and continue along the main track. You'll pass a path on your left in about 300 m wayposted for the Rob Roy Way and in about 700m you'll reach the T junction at Point 3 (NN568045). There's a lovely view west at this point so take a few minutes before continuing on the downhill path, around a couple of sharp bends before passing a metal barrier and reaching the lochshore road in about 11⁄4 Km.
Turn right on the loch shore road and in about 23m, you're back at the car park.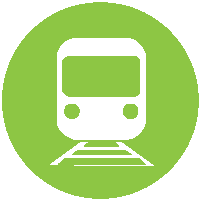 Nearest Train (or tube) Station(s)
Stirling, Glasgow