This is a circular walk to a viewpoint which looks out onto Flanders Moss to the south and the Southern Highlands to the north.
Distance: 7.5 Km (5 miles) with 390m (1300 feet of ascent). Allow 21⁄2-3 hours.
Start Point: Braeval Car Park.
From Tigh Mor, drive over the Duke's Pass to Aberfoyle. At the foot of the hill, turn left along the main street and leave the village following  signs to Stirling/Glasgow.
Read more ...
At the roundabout by the Rob Roy Motel, take the 1st exit (signed Stirling) and in about
1⁄2 mile, just beyond the golf course, the Braeval car park is on your left – NN541006.
WALK INSTRUCTIONS
There are several tracks and paths from this car park. Find the track which leads from the main road,stand with your back to it, and then head down the one with the metal barrier across it which you wil see slightly to your right.
Continue along this path for around 300m and at the first fork, take the left and continue for another 300m. You're now at a junction and Point 1 (NN545010) – 
Keeping left,  continue  up the hill where in about 100m you'll see a path joining from the left. 200ms on there's a fork – take the right turn and continue on your way  (don't be tempted to take the right hand side track which is coming up as you'll end up doubling back on yourself) In around 400m you'll  reach another fork and Point 2 (NN539011).
At this fork, you should keep right and carry on up the hill. Point 3 (NN538014)is about 400 m away where there is a distinct left hand bend across a burn. Over the water, there's a fork where you should turn right and continue heading uphill .
In about 700m, take a sharp left follow the major track for a further 100m (1 min) to Point 4 (NN535019) – the top of Lime Craig. (notice there's a path going straight ahead  which you've just passed)
Now, retrace your steps for 100m to the sharp bend and this time turn left onto the path  (careful it drops quite steepily) where in about 300m you'll reach Point 5 (NN523019). Keep on this main track and head down the hill (Don't take the path on your right) 
It's all worth it! – You'll soon come to a nice and informal view point in around 400m where you can take in the delights of Aberfoyle. In another 700m, turn right and you'll come to a major crossroads and Point 6 (NN526022)
Turn left downhill in about 500m (8 mins) you'll see the 'Go Ape' ropes course. Continue downhill to Point 7 (NN526017) which is on a T junction. Keep right, and continue down the hill where you'll soon see a a small building on your left and a path beside it. Follow this path down through oak woodland where you can join the track at Point 8 (NN527015) 
At point8 , turn left, and carry on walking along the path – (you'll pass a path on your left and then a bit further on, a path to your right which leads to Dounans Outdoor Centre.) Keep straight ahead though and you'll soon pass a golf course and in another 800m, a burn. Continue along the main track (ignore the one to your left) and you'll soon reach Point 9 (NN541008) – a junction with an indistinct path leading downhill to your right.
(If you happen to walk past this junction, you will come back onto the track on which you set out earlier – between Point 1 & Point 2. In this case it is probably simplest to keep going back to Point 1 and then back to the car park from there).
Follow this path downhill for 300m back to the car park.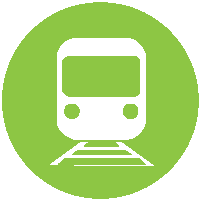 Nearest Train (or tube) Station(s)
Stirling, Glasgow