Walk Details
Just a 15 minute walk from the centre of Hexham, on the south bank of the river Tyne is Tyne Green Country Park.
The land, which was presented to the people by Lord Allendale in1887 to commemorate Queen Victoria's Jubilee covers 19 hectares, which includes the golf course.
Read more ...
This country park is great for families as there it is a large green open space for – perfect for picnics and family fun, with the added bonus of a huge playground with climbing frames and zipwire.
There is a free carpark, with blue badge parking, and accessible loos (RADAR KEY).
The walk along the river bank is very beautiful and there is plenty of wildlife to watch out for along the River Tyne. The park features an avenue of beautiful mature trees and autumn is a good time to visit as the trees are changing colour and the salmon can be seen leaping up the river. The park is also dog friendly.
From the riverside you get a good view of the 18th century bridge – just one of the many bridges that cross the River Tyne
The terrain is solid and level so it makes the it a good pushchair friendly, wheelchair accessible walk.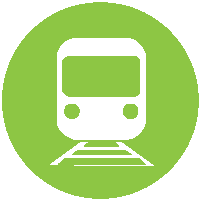 Nearest Train (or tube) Station(s):
Hexham | Newcastle
 Click photos below for more information: