Walk Details
Fountains Abbey is without doubt the largest and best preserved ruined Cistercian monastery in the country.
Founded by Benedictine monks in the 12th century, it grew in wealth, power and architectural grandeur,and as such, it inevitably  fell victim to  Henry 8th's "dissolution of the monasteries"in 1539.
As befits a world heritage site, efforts have been made to provide disabled access, and our in house expert Deb comments as follows.
Read more ...
The path from the main entrance to the abbey is quite sleep and not ideal for manual wheelchairs, but there is specific disabled access via the west gate car park which has designated blue badge parking.
Here you can pre book an electric wheelchair and both the cafe and toilets are wheel chair accessible.
The ruins themselves are accessed by a grassy area, with ramps in places, some being quite steep. Particularly the ramp to the surprise  view. But once again the WHILL electronic wheelchair proved up to the task and the views were rewarding!
Debbie's Verdict  "Wheelchair users do not be deterred, get out and visit this beautiful and historic venue!"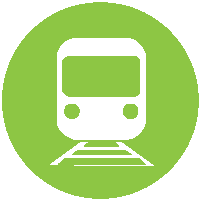 Nearest Train (or tube) Station(s):
Harrogate, Leeds
 Click photos below for more information: