Walk Details
We spent a most beautiful evening at Jervaulx Abbey in North Yorkshire last week. Jervaulx Abbey is a charming Cistercian monastery, left in ruins after the dissolution of monasteries. It is located in East Witton, near Ripon in the Yorkshire Dales.
The owners of the abbey held a special fund raising event for 'Help The Heroes'. For two nights only they floodlit the abbey.
They planned an accessible route around the ruins with parts of the ruined walls lit up in shades of blue, yellow, purple, red and white. It was stunningly beautiful.
There were fire pits filled with blazing logs to sit near whilst listening to the singing from the cloisters. The whole event was very atmospheric – calming and peaceful. I enjoyed a hot chocolate at the café afterwards, whilst the rest of our group tucked into hot pork sandwiches. The café is wheelchair friendly, with plenty of parking spaces for disabled.
Deb's verdict
It was great to take the Whill out at night time. The rear lights on the Whill proved to be very useful, as in places it was pitch black, so people could tell where I was. Though the path was barrier free it was pretty uneven in places, but the Whill covered the ground easily and I felt very confident travelling over rough ground whilst in the dark.
Read more ...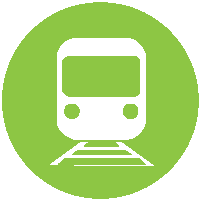 Nearest Train (or tube) Station(s):
Northallerton, Darlington
 Click photos below for more information: