Lindsey Trail Wheel Friendly Walk
The Lindsey Trail is a long distance circular multi-user route through the Lincolnshire Wolds. It extends from Market Rasen to Horncastle. It is a 69 mile trek which takes in the Lincolnshire Wolds. 22 miles of the route is off road. The surface is good on road but can be uneven in places when it goes off road. Once again I used a TerrainHopper.
It is easy walking though long (if you are planning to complete it as a long distance trek). The terrain is undulating but you get some great views over the Wolds. The route is suitable for carriage drivers, horse riders, cyclists and walkers.
The initial idea for the Trail came from local carriage drivers who have worked in partnership with the Mid-Lincs Local Access Forum and Lincolnshire County Council to develop it.
Debs verdict
The skyscapes around Lincolnshire are stunning – the sky is huge! Do as much or as little of this circular walk as you want to do. I did it in sections over several weekends.
Read more ...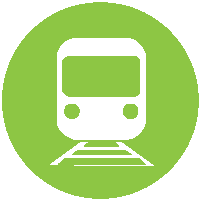 Nearest Train (or tube) Station(s):
Lincoln
 Click photos below for more information: