Walk Details
The Cornish coastline is very rugged with high cliffs and steep paths, which are littered with stiles. Although the terrain is hardly conducive with wheelchair travel we were able to do a walk that joined two magnificent viewpoints.
Our walk begins at the YHA at Lizard Point/ National Trust carpark. Whilst here, spend time exploring the area around the lighthouse.
It is a very steep slope down to the café and lifeboat house and is very challenging if you are in a manual wheelchair.
It is possible to take a car down to the café – and that would be my suggestion if this is what you want to do. However the views from the lighthouse are equally stunning.
From the carpark take the road up to the village of Lizard. There is a purpose built footpath which runs parallel to the road which is perfect. In the village of Lizard there are a few shops and a pub and accessible loos are located near to the village green carpark. From here, take the bridleway signed post Kynance Cove. The terrain is very rough and bumpy and not suitable for a manual wheelchair. I used my Trailrider which coped well, as would a Tramper and TerrainHopper.
Follow the bridleway until you reach the road. Turn Left. This road leads down to the National Trust Carpark at Kynance Cove.
Access to the cove, from the carpark, is by foot only. The walk is steep and is unsuitable for any type of wheelchair. However there is a purpose built accessible path which leads to a viewpoint on the clifftop. This view certainly has a wow factor and the path is suitable for a manual wheelchair. It's the perfect spot for a picnic here. There are no refreshment facilities at the carpark, so take your own food and drink.
Nearest Accessible loos:
Lizard village green and National Trust Carpark at Kynance Cove
Read more ...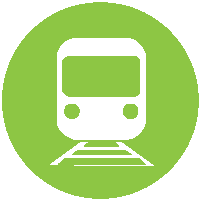 Nearest Train (or tube) Station(s):
Penzance