Walk Details
Until the end of the 19th century, the hills around this area busy with hundreds of men working above and below ground extracting lead from the ground. Today there are the remains of the mines and chimneys of the Old Gang  Smelt Mill.
The Old Gang Smelt Mill was the largest to operate in this area and the main part of what is still standing was built in 1846 and operated until 1907.
Read more ...
Parking is available at the carparking area at Surrender bridge. A short walk along the quiet road takes you to the start of the bridleway. It is a long, steep (1in 10) climb at the start, but the surface of track is good. It is a challenging accessible walk for those who want an adventure. There are stunning views over Swaledale. Make sure you take a map and compass with you as there are many different bridleways leading in different directions. It is bleak on top of the moor and easy to get disorientated in foggy weather.
It is a walk that is ideal for a sturdy 4×4 old terrain wheelchair, such as the TerrainHopper or Tramper. Unsuitable for manual wheelchairs.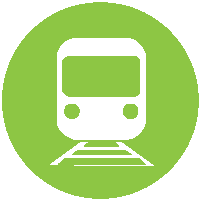 Nearest Train (or tube) Station(s):
Kirkby Stephen, Darlington