Walk Details
This linear walk which is just short of a mile, is ideal for most type of wheelchair, although there is a steep section leading down to the river, which has a gradient of 1:7. The walk is also ideal as a multi -sensory trail – there is so many different sounds to hear along the way, from the noises of the to the gentle babbling of the River Rawthey.
We begin the walk from Joss Lane Carpark in the centre of Sedbergh. Here you will find accessible toilets ( RADAR) and The Tourist Information Office, which is wheelchair accessible.
Read more ...
The first part of the walk is along the roadside through the town.
The pavements in the town centre are quite narrow is some spots but I was able to manoeuvre a manual chair fairly easily on the kerb. If it is too narrow for your chair then travel, with care, on this one way street.
When you come to the main road turn left onto Long Lane and cross the road at the zebra crossing next to the Fire Station. The route takes us left passed Settlebeck High School before turning right along a quite road.
This is quite steep and loose gravel makes it quite slippery. I managed to the slope in my manual chair, but was pleased to have a bit of support from my friend.
Turn left through the kissing gate and follow the path to the next kissing gate. The gate does open fully so that you can get through. Here you will find a lovely picnic area with tables and benches.
The path follows the riverside for a while. Our route stops at the next kissing gate. This is too small for any chair to get through. Here we have to turn around and follow our tracks back into Sedbergh. If you do not want to go back up the steep section, then you can pass through the alternative gates at the picnic area and travel back on to roadside for about 50 metres before you can get up onto the kerb. Please take extreme care if you do go on the road as traffic will not be expecting to meet a wheelchair user travelling in the opposite direction.
There is plenty of wildlife to spot along the river. There are heron, dipper and goosander as well as nuthatch, tree creeper and long-tailed tit in the trees and hedges. In autumn salmon can be seen jumping the weir.
This walk has been designated 'Miles Without Stiles' by the Yorkshire Dales National Park.
Nearest railway station: Oxenholme station is 10 miles from Sedbergh.
Local bus services between Kendal and Sedbergh stop at Oxenholme Station.
Nearest Toilets: Joss Lane Carpark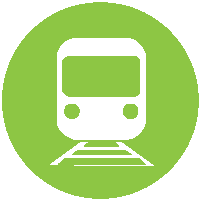 Nearest Train (or tube) Station(s):
Oxenholme