A Wheel Friendly Rutland Water Walk
Debbie North, AccessTOG Ambassador takes to the south shore of Rutland Water to explore the route from the car park to the dam.
This linear walk is great for all types of wheels, from bikes, to pushchairs, electric scooters to manual wheelchairs. Rutland Water is one of the largest artificial lakes in Europe and provides water to East Anglia, one of the driest and most densely populated areas of the UK.
Read more ...
Debbie's Review
Rutland Water is a large, horseshoe-shaped reservoir set within three thousand acres of beautiful English countryside on the borders of Leicestershire, Nottinghamshire and Lincolnshire.
Set in England's smallest county, Rutland Water offers over 25 miles of track for cycling and walking around the reservoir.
Our wheel friendly walk covers only a small section of the track, from the Normanton carpark to the start of the dam wall. The whole place is stunningly beautiful and tranquil.
On the day we visited, a sunny April afternoon, it was a pleasure to see so many families enjoying 'together time' around the water.
There's something for everyone around Rutland Water – sailing, fishing, bird watching, cycling, walking and plenty of space for picnics.
The carpark has designated blue parking spaces. Accessible toilets and cafes are all close by. There is a good track to follow, which is ideal for any form of wheels.
Our routes follows the track alongside of the water, passing by Normanton Church. The Church is well worth a visit, and it is wheelchair accessible. The church is now a museum as well as an idyllic place for a wedding venue. The half of the church was submerged underwater when the reservoir was created in 1970s. Concerts are also held in the church.
There is also opportunity to visit the bird watching centre, run by Anglian water at Egleton. The price of admission includes car parking and several of the hides are wheelchair accessible. A motorised wheelchair can be hired from Egleton and Lyndon.
The Rutland Belle Cruiser is wheelchair accessible from Whitwell on the North Shore. The boat runs regular circular trips around the water. It's an alternative way of getting to experience this gem – Rutland Water.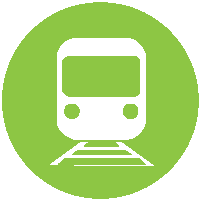 Nearest Train (or tube) Station(s):
Oakham, Peterborough