Walk Details
This easy walk between Settle and Giggleswick, just short of 2 miles is ideal for any type of wheelchair. Settle Station is the closest railway station, only a short way from Ashfield car park in the centre of Settle where the walk begins.
The first part of the walk is along the roadside with a footpath wide enough for a wheelchair, and plenty of drop kerbs for easy access.
Read more ...
The route passes in front of England's oldest surviving music venue, Victoria Hall which has a varied events programme so make sure to check out any exciting concerts that might be on during your visit!
Having passed the supermarket (where you will find accessible loos) the route turns off from the main road and onto Kings Mill.
From here, you can see how the old cotton mill buildings have been renovated into trendy town apartments with balconies overlooking the river. The route now takes us away from the road and we pass the small garden centre before crossing the bridge over the River Ribble. Just upstream from the Memorial Bridge there is a huge rock formation that the water magnificently cascades around, known locally as Queen's Rock.
It is particularly beautiful where route follows the river all the way into Giggleswick and is a great place to do some birdwatching along the river. On this part of our route you will see the dome of the church at Giggleswick School. If you have children with you then you may want to break the walk up with a stop in the park for a run around, or a spin on the wheelchair accessible roundabout in the playground.
The path joins the road again in the quiet village of Giggleswick where there is a lovely church to have a look around before continuing uphill out of the village and onto the main road. Once you have crossed over the bridge you continue the walk along the other side of the river back into Settle and returning to the car park. If you feel like exploring further, wander through the market town of Settle.
This wonderful circular walk also makes an ideal multi-sensory trail as there are so many different sounds to hear along the way. From the thunderous roar of the River Ribble as it cascades over the rock at Settle, to the quiet chirping of the birds in the trees, it really is a treat for the senses. The limestone scenery around Settle makes it easy to see why Stories in Stone want to 'restore, protect and celebrate' this landscape.
The Golden Lion in Settle is a step free pub where you might like to end your walk with a pint! Please note that the toilets are not accessible.
If you are looking for places to hire an all-terrain wheelchair in the Yorkshire Dales, visit the nearby Malham Tarn or Ingleborough.
Nearest railway station: Settle
Nearest Toilets: White Friars Carpark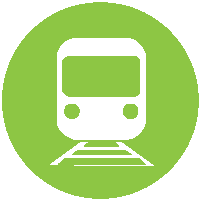 Nearest Train (or tube) Station(s):
Settle