Walk Details
This walk with wheels begins in the seemingly sleepy village of Smardale, a couple of miles or so to the west of the market town of Kirkby Stephen, the nearest place for any amenities you might need.
There are plans courtesy of the Wildlife Trust for a small car park to be put in the centre of the village, including a disabled parking bay.
Read more ...
An information board announces the start of the walk – a linear 'there and back' trek unless you arrange for transport at the other end – and within moments you delve into the delightfully named Demesne Wood with trees that look as though they're clinging on for dear life to the deceptively steep-sided slopes beneath the track.
Smardale Gill Viaduct – 90 feet high and 14 stones arches to take the track over Scandal Beck. Up to this point, the track is perfectly accessible and the Viaduct itself attainable for manual wheelchair users provided they have strength and stamina… or their partners do!
Nestled between Begin Hill and Smardale Fell with limestone outcrops and views over to the majestic Howgills, the Viaduct is a place that needs to be kept secret. Sort of. It's fascinating to think that steam trains would have made their way through here flanked by the steep-sided hills which themselves are literally littered with evidence of times gone by.
After the Viaduct, the track becomes grassy and potentially muddy in places and I'd recommend this be the turning around point for manual wheelchair users. You really do need a sturdy all-terrain wheelchair for the next section to ensure smooth and safe passage.
The next section of the walk delivers Smardale Gill Quarry and old lime kilns.
Eventually, the grassy section comes an end and, unless you've arranged for transport here, it's time to turnaround and head back to Smardale. This gives you a trek of about 6.5 miles in total. Depending on the time of year, look out for the Scotch Argus butterfly, Redstarts, Wood Warblers and Pied Flycatchers. Just a few of the wonderful wildlife that can be seen in this nature reserve.
Carpark: From the A685 between Ravenstonedale and Kirkby Stephen, take the Smardale turning. Cross over the railway and turn left at the T-junction. Bear right over the disused railway and turn immediately right. The car park is 200m on your right. Map reference: OS Explorer map OL19. Smardale car park grid reference: NY 742 083; nearest postcode: CA17 4HG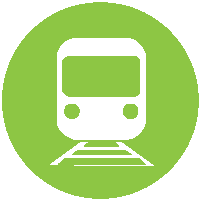 Nearest Train (or tube) Station(s):
Kirkby Stephen, Carlisle