Walk Details
This is a Yorkshire Dales National Park 'Miles Without Stiles' route. It is an easy walk, suitable for people with limited mobility and for manual wheelchair users. The purpose made path is made of compounded aggregate and the kissing gate at the beginning of the walk is wide enough for mobility scooters.
To get to the start of the route , take the A684 from Sedbergh and then turn right onto the B6256 towards Kirkby Longsdale.
There is limited off road parking near to the Killington New Bridge, which crosses the River Lune.
Once you have passed through the kissing gate continue along the track until you reach the first bench. Spend a little time here watching the wildlife and listening to the roar of the River Lune as it crashes over the boulders in the bottom of this ghyll.
Continue along the track.
It's a steep drop down into the narrow valley below but a viewing platform has been built so that you can safely look down to the river and watch it as it weaves a path through the rocks.
It's a great spot to for lunch, as there is a picnic table here. You will see birds such as Robins, Blue Tits, Tree Creeper, Wren, Greater Spotted Woodpecker, Nuthatch and Long Tail Tit. Down in the river you may see heron and Dippers.
There are so many places to take a rest along this track. It is a walk to do at leisure and to take time to absorb the nature that is all around you. For such a short walk there is a wide variety of plants and trees, including 12 species of tree such as Ash, Oak, Sycamore, Birch. Typical plants in this area are Cow Wheat, Wood Anemone, Wood Sorrel, Primrose and Knapp Weed.
At the end of the hard standing track you will find the final bench. From here you get glimpses of the majestic Howgills coming into view. This is the spot where you turn around and retrace your steps.
Read more ...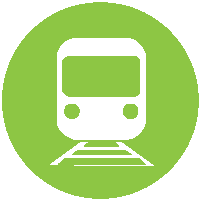 Nearest Train (or tube) Station(s):
Oxenholme
 Click photos below for more information:
For me, a walk  along a river is medicine.  Spending time on a river bank makes me feel more relaxed  and refreshed. As well as the calming sounds of a babbling brook, a waterfall has a natural soothing melody …