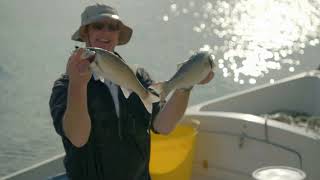 Walk Details
St. Martin's, one of the most beautiful and least spoilt of the five inhabited Scilly Isles, may only be 6 square miles in size – but it hosts a wealth of areas of explore.
It has sandy beaches and lowland heath, farmland and rugged coastline. In this case the old adage is true, good things really do come in small packages.
Located just 28 miles off the southwestern tip of Cornwall, the Isles of Scilly feel a world away from the drizzly shores of the UK thanks to the micro-climate created by the gulf-stream. With its wealth of sights and mild weather, this is one of the best locations to walk in the UK.
This #CornwallDevonWalk on St Martin's takes in the Caribbean blue seas, peaceful beaches with sparking sugar-like sand and the wild North Atlantic-facing moorland, which has been left almost entirely to nature. St Martin's has a population of around 120 people, with far fewer hotels and places to stay compared with its larger cousin St Mary's.
This 6 mile walk starts at St Martin's northernmost beach. To get to it you have to cross a section of sand dunes, once you emerge from them you will be able to see the blue Atlantic lapping against the golden shore.
We then wander through Lower Town and up through Middle Town towards Great Bay, a long swathe of beach on the opposite side of the island. From here you have an uninterrupted view of the Atlantic Ocean, as well as a few of the small uninhabited Scilly Isles, including White Island, with its white beach, Great Merrick Ledge and Mackerel rocks.
The route then sweeps down the coast, hugging the beach until Wine Cove, where you'll turn right and head toward Higher Town. This section of the walk traverses the island, taking in the sights at Old Quay, where you could stop for a moment to watch the small boats and sea birds.
From Old Quay our walk doubles back on itself, on our way to St Martin's Head – a rocky moorland, battered by the wind coming of the Ocean, with its enormous 17th century red and white stripped day-mark stretching up from the rocks. If you face south east you'll be looking towards Cornwall, if you face North, the next land mass is Ireland, if you face west, the next country you'd reach would be Canada. The Scilly's really do feel like another country.
Our walk comes to an end at Higher Town bay, which has a long stretch of sandy beach and protected bay popular with dinghy sailors. If you're lucky, you may even spot some seals. The isle of St Martin's may be small but it has a wealth of places to eat – so find a spot and take some time to imbue the slow pace of life on one of the least inhabited, most beautiful places in the British Isles.
The best (and only) way to get to the Isles of Scilly is by plane or ferry. Ferries leave from Penzance harbour and flights are available from Exeter, Land's End and Newquay. You will be dropped off on St Mary's and from there you can get on a day tripper boat over to St Martin's.
Read more ...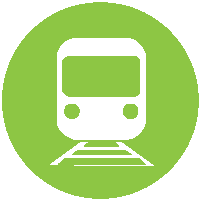 Nearest Train (or tube) Station(s):
Penzance
 Click photos below for more information: