Walk Details
Cornwall is the surfing capital of Britain, thanks to its beautiful coastline and the reliably large waves coming off the wild North Atlantic Ocean. Cornwall is also a walkers paradise, home to a large chunk of the South West Coast Path, the longest established national trail in the country. This #CornwallDevonWalk takes in some of the most stunning views the trail has to offer.
Our journey begins in Padstow, a famously-foodie little town, and follows the River Camel up towards the Ocean. Your first stopping point, however, will be Prideaux Place one of the oldest buildings in the South-West which has been owned by the same family since it was built way back in 1592. It's also home to one of the oldest deer herds in the world, with a deer park dating back as far as Roman times, local legend has it that if the deer die then so will the Prideaux family.
After taking in the sights at Prideaux it's time to make your way down the Camel River. 'Camel' doesn't mean what you'd think, it isn't named after the humped animal but rather comes from an old Cornish word meaning 'the crooked one' in reference to it's winding path towards the ocean.
The path gently weaves along the banks of the estuary, passing St George's Cove, Harbour Cove and Hawkers cove before sweeping up onto the headland. On the tip of the headland sits a stone daymark, which helped sailors plot their course in the days before satellite navigation. There is no particularly hard walking in the three mile stretch from Padstow and Stepper Point, since the path hugs the coast and is well surfaced, but after this point the path becomes rockier and harder to walk.
The next sight on the trail is Butterhole Cove, with butter-yellow sand and steep cliffs surrounding it. Getting down to the cove is only possible down a steep path, and only at low tide. Be careful not to get stuck when the tide changes, unprepared tourists have in the past and had to be rescued at great cost.
The final coastal sight on this spectacular cliff top ramble is Gunver Head, a gorgeous rock formation carved from the cliff by the savage North Atlantic Ocean. Even on sunny calm days the ragged cliffs are a reminder of the power of the sea.
To get to Padstow you will need to get the train to Bodmin Parkway and then the A11 bus from the station to Padstow. There are also a plethora of 24 hour parking options in the town, bear in mind that in high season carparks will be busy so you may have to shop around.
Read more ...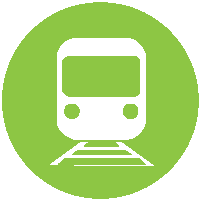 Nearest Train (or tube) Station(s):
Bodmin Parkway, then the 11A bus from the station into Padstow.
 Click photos below for more information: