Walk Details
The Lizard, which comes from the Cornish word 'high court', is a fascinating and wild outcrop – the most southerly place in Britain. Although no one is quite sure why it was called that, it certainly has the drama and glamour of a high court.
This #CornwallDevonWalk is 8 miles long, starting in the village of Lizard, the most southerly settlement in the country and heads west towards Kynance Cove, which many people believe to be the best beach in Britain. With the golden sands, sea so blue it's hard to tell what's sky and what's sea and dramatic rocky cliffs erupting from the beach, it's certainly a stunning sight.
After a paddle in the crystal blue sea and a hopeful glance into mermaid pool the path turns left, leading you towards Lizard Head and Lizard Point. The rocky headland, exposed to the harsh Atlantic Winds feels wild and untamed.
The path then takes us past the enormous Lizard Lighthouse and Heritage Centre, so tall that the light can be seen almost 100 miles away on a clear night.
It has been a welcome beacon to many sailors returning to England after long voyages to far flung places.
Next you'll come across the Marconi's Wireless Station, a small non-descript black shed which Guglielmo Marconi worked tirelessly from, paving the way for modern radio. The shed has been restored to how it would have been during Marconi's day, so take a moment to have a look round the shed which changed history.
There are some beautiful coves along this trail, but none quite so lovely as Church Cove named for the 12th Century shore side church, St Wynwallow. The Current building is around 800 years old but there has been a church on this spot for about 1100 years. Nowadays, it's heralded as one of the best surf spots in the area.
Our walk comes to an end in the sweet fishing village of Cadgwith, filled with thatched white cottages and multicoloured fishing boats. Coming here feels like falling into the set of a period drama, it's a land lost in time, completely itself and completely beautiful.
After all that walking you'll certainly be in need of a Cornish Cream Tea, and there are plenty of places to find just that. Just try not to forget which way round the cream and jam go on the scone. Is it cream first or jam? Either way it tastes delicious to us!
To get back to your car you need to get on the number 34 bus which will drop you off in the little village of Lizard. To get back to Penzance station you'll need to get the 34 to Seven Stars and then the U4 to Penzance.
Read more ...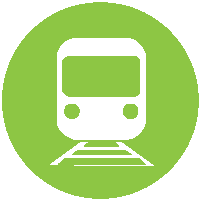 Nearest Train (or tube) Station(s):
Penzance, then take the U4 to Seven Stars then get the 34 bus to Lizard.