Walk Details
This stunning circular walk explores the hills and woodlands above Bath, with magical views across one of England's most historic cityscapes.
Only a short stroll from the city centre, enter another world, onto the skyline hills above Bath and beyond, through 6 miles of meadows and ancient woodlands to secluded valleys.
At all times of the year, a variety of views from this walk's elevated position offer new perspectives of Bath, nestled among tree-lined hills. The contrast of the city, so close to this rural haven, enhances the sense of tranquility and the softness of nature's forms, that unfurl into Bath like green fingers holding a golden stone prize, a special combination that has earned the city and its countryside setting World Heritage Site status.
Bath can be glimpsed nestling among the hills at the foot of the picturesque Lyncombe Vale. At the head of this vale is Prior Park.
In the foreground, the humps and bumps in the field are created by the yellow meadow ant. Green woodpeckers, jays and buzzards are common sights here.
There is parking on the road at the start point of this walk, but it is a bit difficult to park, unless you start the walk on the far side, away from Bath centre.
Read more ...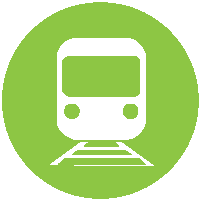 Nearest Train (or tube) Station(s):|
Bath